Tips:

1. Your payment account name must be the same as your FUTU Securities account name. Funds transfered from third-party accounts, E-wallets or cash transfers will not be accepted.

2. Your transferred funds needs to be settled and verified after FUTU have received your transfer. FUTU do not process remittance during Hong Kong public holidays. Please allow the time for remittance processing.

3. Due to compliance reasons (e.g. channel and country risks) and to protect the safety of your assets, Futu HK may refuse your deposit. After the refusal, Futu HK will inform you the arrangement of the return of funds, either via the same route, or by other means.
What is FPS Transfer?
FPS Transfer is a fully connected fast payment system for banks launched by the Hong Kong Monetary Authority on 30 September 2018.
● Instant interbank transfers
● Free of charge
● FUTU supports HKD tranfer only, and is about to support CNH in the future.
● Use FPS ID for funds transfer rather than account number.
1. FPS transfer on Online-Banking APP/Website
Visit Hang Seng Bank website: https://www.hangseng.com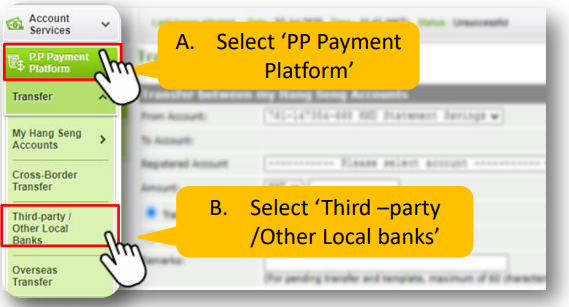 Log in personal E-Banking and find [P.P Payment Platform] - [Third-Party/Other Local Banks]. Fill in the form with the following information.
| | |
| --- | --- |
| From Account | Select your HKD account |
| To Account | Non-registered Payee |
| Method | By Phone Number/Email Address/FPS Identifier |
| FPS ID | 7522014 |
| Receiving Bank | INDUSTRIAL AND COMMERCIAL BANK OF CHINA (ASIA) |
| Payee's Name | FUTU SECURITIES INTL (HK) LTD |
| Amount | Enter the amount you need to deposit |
| Transfer Date | Now |
Notes:
1. For your convenience, we recommend you to register FUTU as your frequent beneficiary by ticking the check box [Add to My Payees].
2. Please double check your transfer information before submit.
3. Please capture your screen after transfered for future reference.
2. Notify Futu to collect payment
After you have transferred your funds to FUTU account, you need to submit a notification on APP to notify FUTU to collect your payment. If the deposit notice is not issued for more than 20 days, the fund may be returned by the bank.
FUTU will accept your deposit only if you have submitted a notification to FUTU, if not, your deposit request might be delayed.
2.1 How to submit a notification to FUTU?
PATH:Launch FUTU APP - Click [Accounts] on the bottom - Click [Any Account] - Click [Transfers] - Click [Deposit] - Select the currency you have transfered - Select [FPS transfer] - Click [I have transferred the funds and notify FUTU to receive the Payment]
Please double check on your Remittances account and deposit currency.
Notes:
1. Please input the amount correctly, or your deposit might be delayed.
2. If you have transfered several times to FUTU, please submit the notification seperately.
3. FAQ
3.1 Check deposit history
You can check your deposit status or history in deposit history page.
PATH: Launch FUTU APP > Accounts > Any Account > More > Funds Records
3.2 Arrival time of deposit
Time of deposit notification submission

Credit time

Hong Kong Stock Trading Days

(Monday 08:00 – Friday 23:59 )*

Within 2 hours

Other Time

Before 11:00 of next trading day
3.3 Bank fees
Majority of banks do not charge fees at this stage, but FUTU do not guarantee that some institutions do, and FUTU do not guarantee that fees might required in the future. For further details, please consult the bank.
3.4 Other questions
If you have a arrears in your FUTU account, the deposit amount returned before 15:55 on the trading day will stop calculating the interests on the same day. The deposit amount returned at other time will stop calculating interests on the next trading day.
Deposit credited before 15:55 on the trading day will record in the statement on the same day. Deposit credited at other times will appear in the statement on the next trading day.
Disclaimer

1. Samples above are collected from Internet and for reference only. Please refer to your own bank information.

2. FUTU is not responsible for any losses incurred cause by this guidance.